Icelandic water with the Lifjalla eco-guarantee
With Lifjalla, you don't have to choose between taste, health and the environment. We deliberately choose to package our Icelandic water in our technically innovative bag-in-box packaging. This packaging is sustainably manufactured, fully recyclable, compactly stackable, user-friendly and hygienic. But it doesn't stop there, because we also make additional efforts in the area of corporate sustainability and ecological responsibility. The fact that we respect the environment and do everything we can to protect the planet is our transparent eco-guarantee to you.
Conscious choice for bag-in-box packaging
The fact that we do not bottle Lifjalla water in plastic bottles, but in bag-in-box packaging, is not a coincidence. After all, this technically sophisticated packaging offers significant advantages for our customers, for product quality and for the planet.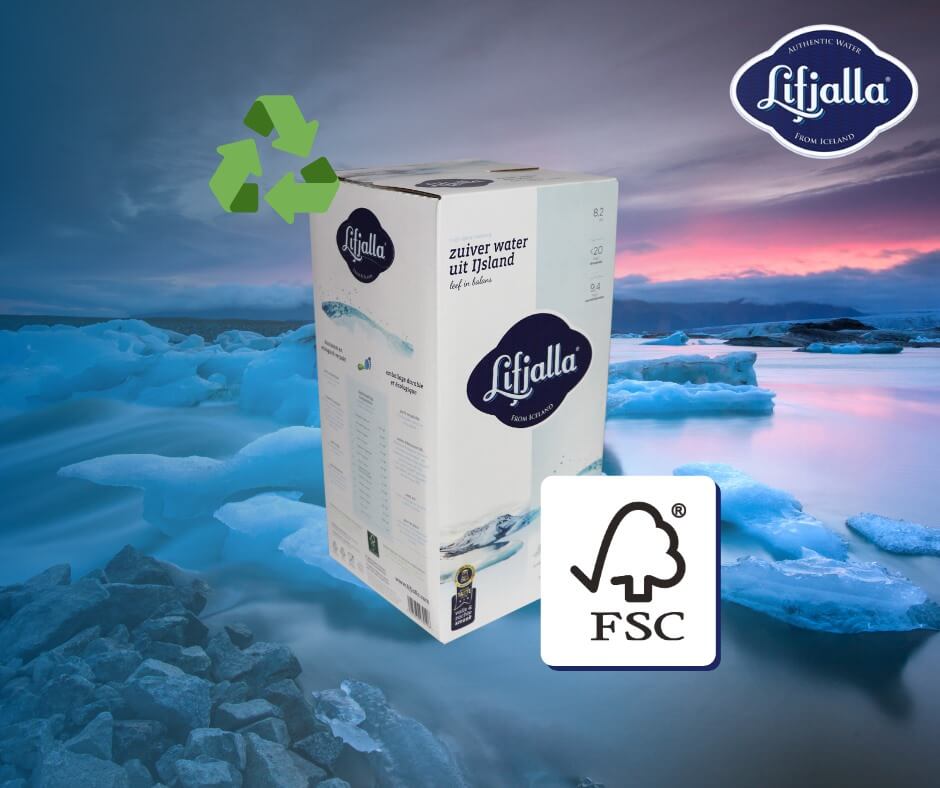 1. Environmentally friendly & sustainable
The cardboard exterior of the bag-in-box packaging is made of FSC-certified, corrugated cardboard sourced from sustainable forestry. Once you have finished your carton of Icelandic water, simply fold the fully recyclable cardboard box and dispose of it together with the recyclable paper. No hassle, no litter and a whole lot less plastic in our environment! The flexible inner bag can easily be removed, so that you can also sort it into the recyclable plastic waste. By the way, this bag is BPA-free, which means that no Bisphenol A leaks into the groundwater during the recycling process.
Storage and roadway transport are also much more environmentally friendly with this compact, stackable, bag-in-box packaging than it is with bottles – both when it comes to the transport from the packaging manufacturer to our filling plants (boxes transported flat) and when it comes to transporting the filled water boxes to our end customers (stackable and therefore space-saving).
Less packaging and less waste
After all, the combination of a long storage period with the option to consume the water by the glass also results in significantly less food waste. The fact that we do not package our water by the litre, but only in packages of 5 or 10 litres, also considerably reduces the mountain of packaging material waste.
2. Optimal protection of product quality
The cardboard bag-in-box contains a closed system that optimally preserves the taste, mineral balance and oxygen content of the water. The flexible and hygienic bag protects your naturally pure Icelandic water from light, air and contamination. Did you know that your Lifjalla water box can be stored for two years without any loss of quality or taste?
3. Convenient & child-friendly
Of course, the integrated tap is much nicer than a traditional rotary stopper. Who knows, maybe that will give you a reason to refill your glass a little more often… The tap is also much more fun and more convenient for children, who can now fill their own glasses with water without any help or spills.
Practical packaging information
| | Lifjalla 5 litres | Lifjalla 10 litres |
| --- | --- | --- |
| Net volume | 5 litres | 10 litres |
| | 4 | 2 |
| | 152 | 72 |
What else we are doing to protect our planet
Reducing CO2 emissions by transporting Icelandic water to Belgium in large, ocean-going, bulk cargo loads instead of first bottling and packaging the water at the source.

The Lifjalla headquarters is equipped with all kinds of energy-saving technologies, such as a large solar panel field that almost completely covers our electricity needs.

The fewer trips the better! That is why we encourage Lifjalla sellers to place orders for full pallets as much as possible, at attractive volume discounts, of course..

By packaging Lifjalla in 5- or 10-litres boxes instead of in 1-litre containers, we save a lot of packaging material while considerably reducing the mountain of waste.
Find a Lifjalla dealer in your area or order naturally pure Icelandic water online for your home or office at lifjallashop.be.

Lifjalla® Headquarters
Veurnseweg 528
8906 Elverdinge (België)
T +32 498 10 17 42
info@lifjalla.be

Lifjalla is a trademark of Elementi nv (BE 0841.500.536)
Developed with the support of